But what about its other claims
By Dani Deahl@danideahl  Jan 11, 2018, 12:43pm EST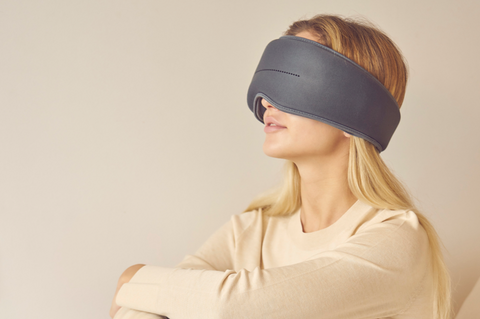 https://www.theverge.com/2018/1/11/16875114/dreamlight-sleep-mask-light-wake-up-ces-2018
Startup Dreamlight debuted a new sleep mask at CES that makes a number of promises, including the ability to lessen the effects of jet lag, recommend adjustments to your sleep habits based on your 23andMe profile, and, um, project infrared light to supposedly help with under-eye circles.
Aside from some of these questionable claims, the Dreamlight mask does have concrete features that are unique and can help you get a more restful night's sleep. I tried it for a night, and it does work. The Dreamlight is a heavily padded and contoured strip that wraps around your head and attaches with velcro. The design is meant to spread out any pressure applied to the face and block out as much light as possible. It also has an optical heart rate monitor, infrared sensors, accelerometers, gyroscopes, and four speakers embedded in the sides.
Like most other products, there is an accompanying app. The app allows you to track sleep patterns over time, set when to wake up, choose what ambient sounds to play while you're falling asleep, and, according to the company, make sleep recommendations based upon your 23andMe genetic profile.
Perhaps most intriguing is that Dreamlight displays light inside the mask via LED panels in front of your eyes to both help you fall asleep and wake you up naturally in the morning. Light is the only way to wake you up if you're using Dreamlight's app; there's no ability to set an alarm.
I was able to try out the mask for a night and was excited as I've been on a quest for several months to find the perfect sleeping apparatus. I use a traditional sleep mask, but my partner snores, which often wakes me up in the middle of the night. I could wear something like earplugs or Hush smart earbuds, but I don't like the idea of having something in my ear all night. There just aren't a lot of over-ear sleep mask options out there with integrated speakers, never mind any of Dreamlight's other fancy features. This solution can fill a niche.
I wasn't able to get the full experience — the app is only available in Android beta and I have an iPhone — but I could still use the quick start menu on the front of the Dreamlight. This allowed me to set the current time, language, and the time I wanted to wake up. I then set it to give me 20 minutes of infrared while I slept because the worst thing that can happen is nothing and the best is somehow, I look more refreshed?
Once I was ready to go to sleep, I strapped it on, activating a pulsing, warm-colored light (meant to trigger melatonin production to make you sleepy) and ambient sounds. The Dreamlight rep told me I was supposed to catch my breath with the pulse of the light, leading my body to relax and fall asleep faster. I was dubious about using light to make me fall asleep, but I got into the rhythm and was out almost instantly. The green light used in the morning was also pleasant to wake up to, and, I really did feel rested. For whatever it's worth, this entire week at CES, the app I normally use to track my sleep, Sleep Cycle, has said my quality of sleep has hovered around 70 percent. The night I used the Dreamlight mask, Sleep Cycle said my quality of sleep was 90 percent.
Ultimately, there's no denying this is a bonkers sleeping mask that has some very useful features but also some dubious assertions. Can it really gain insights from your 23andMe profile to make you sleep better? Will the infrared light actually solve dark circles? Can it accurately recommend a sleep schedule to beat jet lag? There's no basis for the claim that genetic tests can tell us sleep recommendations. Also, I asked what research the company had to support the infrared claim, and a rep said it was working with Chinese universities, but couldn't point me to any published research.
On the other hand, waking up by light is proven to work as an alarm, and it's highly unusual to find it built into a sleep mask. That, combined with the speakers in the sides, are the two most useful and tangible things that would convince me to get one and basically wrap my head in a pillow at night to shut off the world.
Sleep masks are certainly helpful, but be aware that there's a healthy reason to call into question some of Dreamlight's claims.